Digital marketing skills are in great demand but have a limited supply. In 2019, the UK government examined the digital skills needed to succeed now and in the next 10 years. The research found that digital marketing skills were the third fastest growing skill sector and presented a strong bet for job seekers.
According to the 2018 Marketing Hiring Trends report by McKinley, demand for marketing talent continues to exceed supply.
Both these studies demonstrate the demand for digital marketing skills in the job market. As someone new to the industry, you'd wonder which area of digital marketing to learn, where to get industry recognized qualifications and how much to invest in such trainings.
In this article, I'll answer each of these questions based on my experience as an agency owner.
1. Demand generation via Google Ads and Social Media Advertising
As we spend more time online, there has been a surge in online advertising by brands. These ads aim to build brand awareness or get conversions (such as purchases or at least registered interest). You can become a certified specialist in running such ads through the following free digital marketing courses:
a) Google Ads – the courses cover 7 areas of advertising on Google. These include search ads, display ads, video ads, shopping ads, app ads and performance measurement. I highly recommend that you go through them all and get certified in each.
b) Facebook and Instagram Ads – this an official course from Facebook. It teaches you how to leverage on ads to gain followers and likes on both Facebook and Instagram. Once you're done with this course, you can proceed to learn how to create ads on Facebook and how to create ads on Instagram
Important note: Both the Google and Facebook e-learning courses are available for free. Google certification is free and you get certified after taking a free certification exam. The Facebook Blueprint certification however, costs USD150 per exam. You can check for the latest certification exam cost here.
2. Advertising to drive e-commerce sales
E-commerce was already projected to grow to USD150 billion by 2025 in ASEAN alone. This rise of e-commerce has been accelerated by the coronavirus pandemic. One of the growing skills that an aspiring digital marketer should know is to run ads that drive purchases on e-commerce platforms.
a) Google Shopping Ads – These are product-based ads that show up when you search for things like "running shoes". They display the product image, name, reviews and price. Clicking on the ad immediately brings you to the individual product page. Google Shopping Ads were launched in Southeast Asia in 2017 and are still relatively new. Getting certified in this area can give you the edge over other job applicants.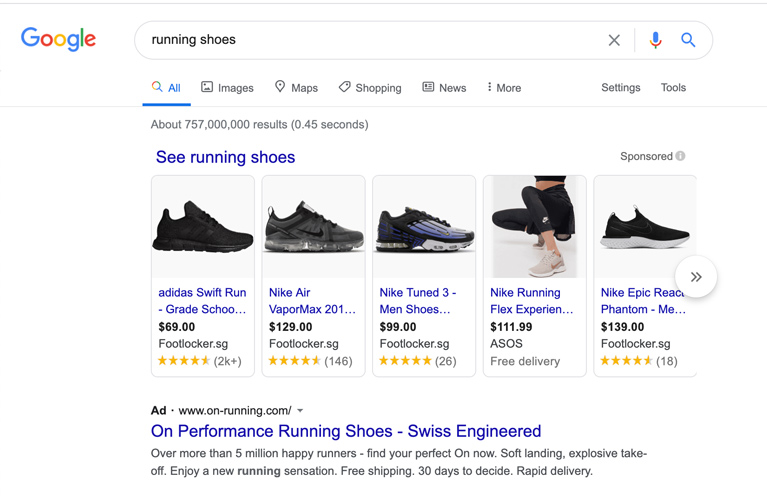 b) Power of Commerce on Facebook and Instagram – Instagram shopping is now being rolled out into more markets. In addition to this, Facebook recently announced Shops by Facebook allowing business pages to add products and facilitate e-commerce transactions. This would be another growth area to consider as a marketer.
3. Video Content Marketing
Video content marketing is growing. 85% of marketing professionals use video as a marketing tool. With more brands taking the lead and embracing video, mastering YouTube is definitely going to be a key skill. The YouTube Creator Academy has courses from beginner to advanced level. The courses cover a range of topics from video production to monetizing your channel. While completing the courses won't give you a certificate at the end of it, the skills acquired will be of great value to your employer.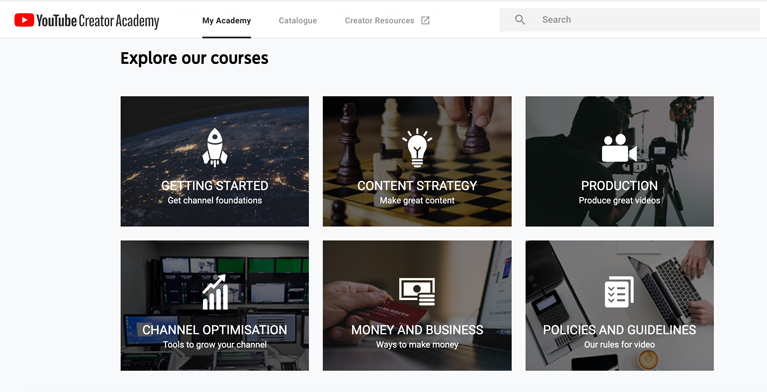 4. Content Marketing
Content marketing is another skill coveted by agencies and the brands that we serve. According to 2018 statistics from the Content Marketing Institute, 86% of B2C marketers think that content marketing is a key strategy.
DBS Bank launched its mini-series titled Sparks in 2016. Since then the series has gotten a 2nd season and garnered 245 million views. The series is inspired by real life stories and follows bankers as they navigate the work and personal lives. Why would a bank like DBS launch a mini-series? They recognized the power of content to reach new audiences and generate positive brand association across Asia.
You can learn about content marketing and become a certified Content Marketer with the following options:
a) HubSpot Academy's Free Content Marketing Course
b) Content Strategy for Professionals by Northwestern University – This course is delivered via Coursera. It teaches strategic storytelling and how to create engaging content.
5. Social Media Marketing to build and grow a brand
Social media is constantly evolving. The platforms evolve – Facebook launching Shops by Facebook and Instagram enabling e-commerce via Instagram Shopping. New platforms start to gain prominence like new social media star – TikTok. While a few brands like LUSH have famously quit social media, most still utilize social media to engage with both existing and potential customers.
You can learn social media marketing through the following channels:
a) Facebook for Business – You'll find a variety of courses from growing your business with Instagram to the essential guide to Facebook Page posts
b) Social Media Strategy Certification Course – This comprehensive social media course will teach you everything from building an effective social media strategy to measuring the ROI of your social media campaigns. It delivers unbelievable value and best of all its FREE!
6. Master digital marketing analytics
One of the biggest challenges that marketers face is to show the ROI of their marketing activities. HubSpot describes digital marketing analytics as the translation of customer behaviour into actionable business data. Marketers will have to use data to inform their actions and measure the success of their marketing activities. Demonstrating that you are a data-driven marketer can help in your marketing career.
You can take a small step into this domain by getting certified in web analytics with the Google Analytics Academy. The Analytics Academy has both beginner and advanced courses to help you understand Google Analytics and the data that it collects.
If you'd like to go in-depth, then the WSQ Digital Marketing Analytics Course would be right for you. It is an intensive 2-day course that will help you gain a complete understanding of digital marketing analytics. It will help you map KPIs to digital analytics metrics and help you make data-driven marketing decisions.
Digital marketing analytics is one of the harder branches of digital marketing. It has lesser appeal to aspiring marketers as compared to content marketing and social media marketing. However, this is a skill that is sought after by companies. Once you've become certified in this area, it will help you stand out among other digital marketers.
I've shared the skills that our client projects increasingly require. Digital marketing skills are highly sought after and will be increasingly in demand in the coming years. Educating yourself in these six in-demand marketing skills and getting certified in them will help you stand out among applicants.
If you found the article useful, please share it with someone who might benefit from reading it.
If you've taken action on any of the above, please do share your experience in the comments below.
Subscribe to my newsletter
You will get a monthly dose of marketing and inspiration